Events
Forthcoming mountain biking related events taking place in and around the Peak District, UK.

Dark & White Mountain Bike Events
Various dates and locations
A number of mountain bike orienteering events around the Peak District, see their website for all the dates.
Sheffield Adventure Film Festival (ShAFF)
9-11 March 2018 – ShAFF Weekend , Showroom Cinema, Sheffield
An annual weekend featuring a variety of films about outdoor adventure actives, including mountain biking.
Peak District Mountain Bike Challenge – British Heart Foundation
Saturday 17th March 2018, Hope Valley
"Adrenaline pumping adventure around the rocky terrain of Hope Valley on this technical ride. Faced with several brutal climbs, and tricky descents – this is a challenging event, but will all be worth it when you cross that finish line."
If you have a relevant event you'd like adding please contact us. If you're organising an event, please get in touch with PDMTB for local advice and promotional assistance.


Past Yearly Events
Past events that will very likely be repeated at a similar time the following year.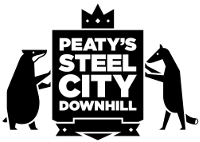 Peaty's Steel City Mini Downhill Race
Saturday 20th May 2017, Greno Woods, Sheffield
An annual fund-raising race on a short track. Fun for both riders and spectators. Plus the legend himself.
Evans Cycles Ride It Peak District Off-Road
Saturday 19th August 2017, New Mills
Organised ride from New Mills, two routes around Hayfield, with the long route taking in Jacob's Ladder and Roych Clough.
17th Hope Valley Mountain Bike Challenge
Saturday 23 September 2017, from Hope Valley College
An annual fund-raising ride in the Dark Peak with a number of tough and technical route options.
Other Past Events
Past events from more than one year ago or without history that might be repeated in the future.
Peak District Pioneer Adventure Cross
Sunday 21st May 2017, Bakewell
"The Peak District Pioneer Adventure Cross is a classic British ride exploring the bridleways and cycle trails of the undulating White Peak area of Derbyshire. Mellow rolling countryside and picture-postcard views, combined with easy trails make for a fun relaxed early summers ride."
Scott MTB Marathon Series 2017: Rnd 4
Saturday 2nd – 3rd September 2017, Hope
A MTB endurance weekend event. Routes for all abilities with options from 25 – 70km.
Hope Valley Adventure Film Festival (HVAFF)
Saturday 27th February 2016, at Hope Valley College
An annual weekend of over 20 films about adventure sports, including biking, and other activities. A spin off from ShAFF.
OMM BIKE Peak District
23-24 April 2016, from Parsley Hay, near Buxton
OMM BIKE is a fun, relaxed weekend for mountain bikers who love being out on the trails. Mountain bikers spend 2 days exploring the Peak District trails choosing the best routes on trails and bridleways to find the most points in the time allowed.
Steel Valley Ride
Saturday 16th July 2016, from Stocksbridge, near Sheffield
31 miles through the dramatic landscape of the Dark Peak including the challenge of tackling the technical terrain across Cut Gate and Derwent Edge and some of the less travelled bridleways around Strines. With over 3,500 feet of climbing it's not for the faint-hearted. The funds raised from the event will go to the Steel Valley Project, a countryside management charity.